Out Of Character
Name/Alias/Nickname: Travis
Age: 18
Screen Name: sakikurue, sprint itegumo
Time Zone: Eastern
Role-playing experience: Six Years
Average amount of time online per day: Usually six hours or so, sometimes longer on weekends.
Have you ever Rped Bleach before?: Yes with various groups.
Have you been in any other Bleach role-playing groups?: Indeed KHR, You have been bleach, True Shinigami, and Jigoku Kochou
What is Hantarou's Bankai ?: He does not have one.
Are you applying for CC or OC?: Original Character
What is your character?: Vizard
In Character
Family Name: Hinaoshi
First Name: Rin
Age: Appears 18
Height: 5'6"
Weight: 120 lbS.
Personality: Rin is an extremely caring person. She seemes to be the motherly and nuturing one of the Vizard, often tending to their wounds after battle if it is to ocur. Although Loyal to the Vizard Rin tends to show more respect to Shinigami than the other Vizard because she use to be one herself.
Physical Appearance: Rin is five foot six and one hundred and twenty pounds. She has jet black hair which is is a length that stops a few inches past her shoulder blades and she has black eyes. She usually wears a white skirt with a brown hooded sweater, and tennis shoes with black gloves or something of that variation. She often tucks her hair into the back of her sweater holding it in place with the hood.
History/ Biography: Rin orginally was a Shinigami. A unranked officer of Division Four. She graduated from the Shinigami Academy at a young age, and that is when she became a member of Division Four. When she was still young, her mother was killed by a Hollow before her very eyes and Rin couldn't stop it despite her best efforts. After the death of her mother she vowed to gain more power and that is when she learned of the Vizard. She traveled to the Mortal World without permission initally betraying Sould Society in the process and sought out the Vaizard. Among finding them, she begged them for help. It was the Vaizard who helped her find her inner hollow and bring it out and take control similar to what Ichigo and all the Vizard have gone through. One obtaining her mask she was offically a Vaizard. Although regretful about betraying soul society she is thankful for the Vaizard and the power they helped her obtain. Rin secretly wishes the Vaizard would become allies to Soul Society rather than enemies, and often tries to convince Shinji to do so.
Zanpakutoh: Rin's zanpakuto is called Angel of Music. In it's unreleased state it takes the form of a regular katana, with a rectangular tsuba. With the shikai command "Hum", Rin grasps the dull end of her blade and pulls, pulling a Wakizashi out of her Katana the two becoming that of an Old Fashioned Daisho. Its abilities is why she was placed in Division Four when she was a Shinigami. The Katana acts as the offensive part of ehr weapon, upon piercing ones flesh, the Katana sends a surge of Rin's reiatsu into the wound causing it to travel to the brain of the person who was wounded and cause them to become numb in the area they were wounded. With enough wounds the person can become paralyzed. Th wakizashi can heal minor wounds, on both Rin and her allies, by channeling her reiatsu into the wound similar to the offensive part but it heals instead of wounds. The reason why it is called the Angel of Music is because both blades hum as if they were a chorus of Angels..
Character image: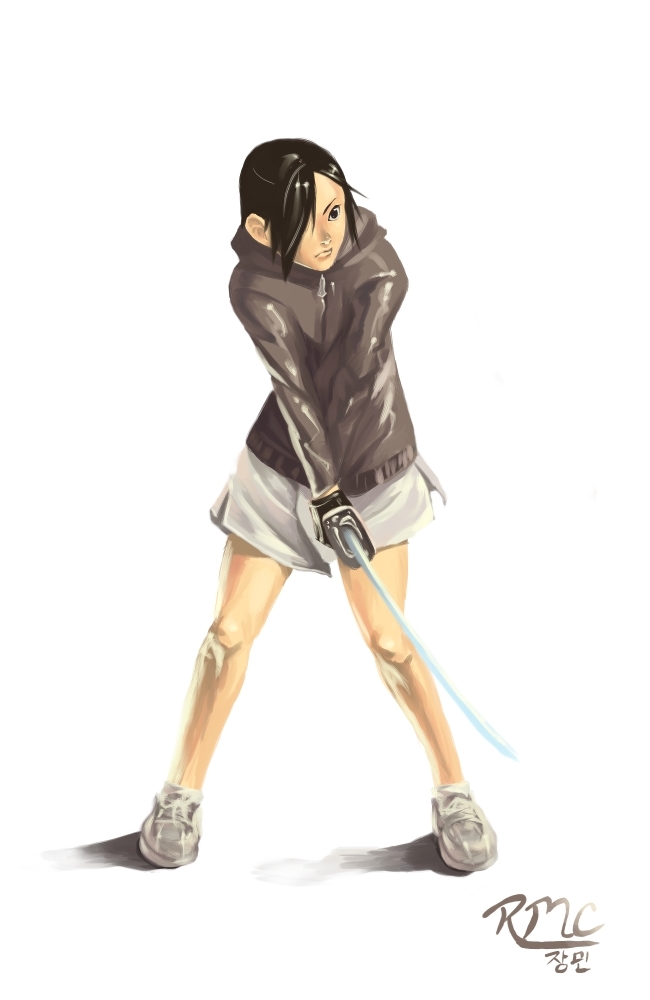 Sample Post: "Shinjiiiiiiiiiiiiiiiiiiii!" ::Cried out the voice of Rin as she held onto his pant leg, in the process being dragged by him as he walked. Still she did not give up and remained clinging to his pant leg. "Please?!" she exclaimed. It was evident she wanted something, and most likely it was the something she often nagged him about. "Why can't we help the Shinigami?" she asked, looking up at him with watery eyes and pouty lips. She was no baby, but she would do whatever it took to convince Shinji and fufill the promise she made to her mother during her last breaths. Finally Shinji would become annoyed and shaked his leg until Rin was viciously thrown off like a rag doll. She landed on her tush with her legs sprawled out. Folding her arms as she sat there she let out a loud "Hmph!" and moments later she was tapping her cheek with her index finger, looking up at the sky with lsot eyes, lost in her own thoughts of how to convince him.::